Power It!

This was $99.99 last month and now less than $49.99
Why Cast Iron?
The cast-iron skillet was first introduced into American cooking in the late 1890's.
Cast-iron cookware was especially popular among homemakers during the first half of the 20th century because of it's durability and ease of use.
Most American households had at least one if not more than one cast-iron cooking pan.
Regular Price: $99.99
Price: $49.99!
(Limited supply – No rainchecks)
Non-Stick Pans:
Unfortunately, cast iron was replaced by many in the 1960s and 1970s, as Teflon-coated aluminum cookware was introduced and individuals opted for a lightweight and non-stick cookware.
Better than Teflon:
However, Aluminum has it's drawbacks-it's not as durable as pans have to be replaced more frequently, they are more expensive and potentially dangerous in the body with Aluminum toxicity.
Good News:
Cast Iron cooking is becoming very popular once again at the professional level (restaurants, culinary schools and cooking shows) as well as in the home kitchen.
For Good Reason:
HEAVY-DUTY – Cast iron skillets are a timeless must-have for every kitchen. A good cast Iron set is virtually indestructible and will last years, decades, and generations to come. This set is extra thick.
READY TO USE – Our skillet set is ready to use, straight out of the box. They are factory pre-seasoned, which is much more effective than at home pre-seasoning. Factory pre-seasoning makes our cast iron skillets virtually non-stick, easy to clean, protected against scratches, and will also make your food rich in flavor!
MULTI-FUNCTIONAL – Our cast iron cookware is multi-functional and suitable for many different cooking methods. Use our skillets on the stovetop, in the oven, over a campfire, and even when slow-cooking! Our set is great for frying, sautéing, cooking, grilling, and more.
HEAT RETENTION – Our design provides superior heat retention for cooking. And they conduct heat evenly so that your meals will turn out perfectly cooked every time. Plus the sturdy handle aids in lifting, and provides a hole for hanging when not in use.
SATISFACTION GUARANTEED – We are so confident in the quality of our product that we offer a 30-day satisfaction guarantee! If you are unsatisfied, simply contact us to return the product for a full refund.
Regular Price: $99.99
Sale Price: $49.99!
(Limited supply – No rainchecks)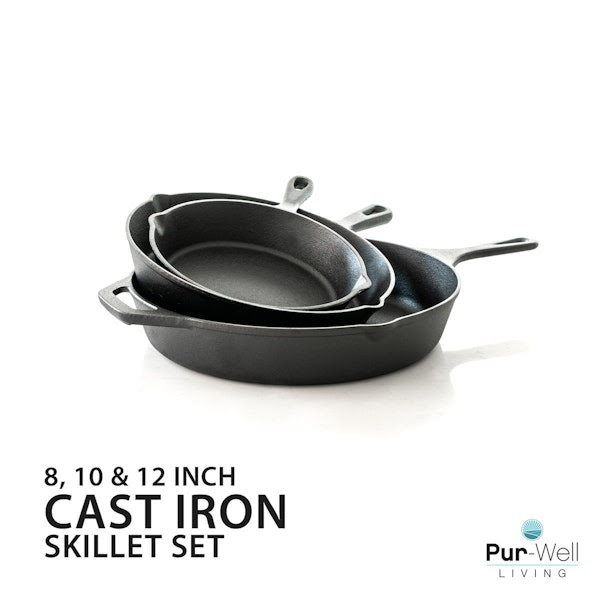 This LARGE three-piece complete with heavy-duty cast Iron [Lifetime]
*Many sets on the market are small (mini) dorm size sets
BUY IT NOW: 50-OFF top Pur-Chef three-piece cast iron skillet set with free shipping
Extra Large, heavy-duty, three-piece set:
All included for the price of a single cast iron skillet pan!
*Many sets are small (mini) dorm size sets
Regular Price: $99.99
Sale Price: $49.99!
(Limited supply – No rainchecks)
In the next few weeks, there will be MORE significant after Holiday price drops and 2020 closeouts as retailers will be liquidating their stock.  More after Xmas deals are emerging.
We will keep you posted on all the best deals – in under a minute!
We use affiliate links. If you buy something through this link we may get a small share of the sale.
We are releasing an all-new deal site that scourers the country for the best prices and dropping deals every minute! – Now Live!
Saving you money on the hottest products by the Minute!