March 24, 2021 DEALS!
8 Best Items for Your Kitchen!
Your kitchen may already contain some of the kitchen essentials like; food processor, slow cooker, casserole dish, slotted spoon, cutting board, measuring cups, measuring spoons, stand mixer, and immersion blender. I mean the list could really go on and on for a long time.
Classic 8in Professional Chefs Knife (Made with German Stainless Steel) 8-inch 
Move over paring knife and other kitchen tools. Elite multi-purpose full-size 8-inch chef's knife – using German, ice-hardened, stainless steel, hollow edge with rocking design at an affordable price.
The hollow edge creates pockets of air that prevent extra-thin or soft slices from sticking to the blade
Ideal for slicing, mincing and dicing all kind of food
Precision-forged from a single piece of exclusive German, high carbon, stainless steel
Friodur ice-hardened blades are remarkably sharp, stay sharper longer, and are highly corrosion resistant
Was: $99.99
With Deal: $34.99 with Coupon on the listing
Ninja Air Fryer that Cooks, Crisps and Dehydrates, with 4 Quart Capacity, and a High Gloss Finish
Now enjoy guilt free food with this great tool; Air fry with up to 75 percent less fat than traditional frying methods; Tested against hand cut, deep fried French fries
Wide temperature range: 105 degree Fahrenheit to 400 degrees Fahrenheit allows you to gently remove moisture from foods or quickly cook and crisp foods with convection heat
4 quart ceramic coated nonstick basket and crisper plate fit 2 pounds of french fries. Cord length (feet) – 2.6
Was: $129.99
Australian Macadamia Nut Oil Cold Pressed (500ml Bottle)
Foodies call it "Liquid Gold" and many doctors would prefer you use this over butter or olive oil.
Macadamia Nut Oil is high heat stable. Wonderful buttery taste.
Perfect for cooking eggs, meats, and vegetables.
Foodies call it "Liquid Gold" and many doctors would prefer you use this over butter or olive oil.
Make effortless meals in the over, on the grill or in the instant pot
Was: $39.99
Now: $24.99 with Coupon on the listing
Pur Pre-Seasoned Cast Iron Pans Cookware Set of 3 (8-inch 10-inch 12-inch Pans Included)
MULTI-FUNCTIONAL – Extra Large, Heavy Duty three Piece Set: 8-inch 10-inch 12-inch
READY TO USE – They are factory pre-seasoned, which is much more effective than at-home pre-seasoning. Factory pre-seasoning makes our cast iron skillets virtually non-stick, easy to clean, protected against scratches, and will also make your food rich in flavor!
HEAVY-DUTY – Cast iron skillets are a timeless must-have for every kitchen. A good cast Iron set is virtually indestructible and will last years, decades, and generations to come. This set is extra thick.
EXTRA LARGE – 3 Piece Set: 8-inch 10-inch 12-inch pans included
Was: $99.99
Now: $49.99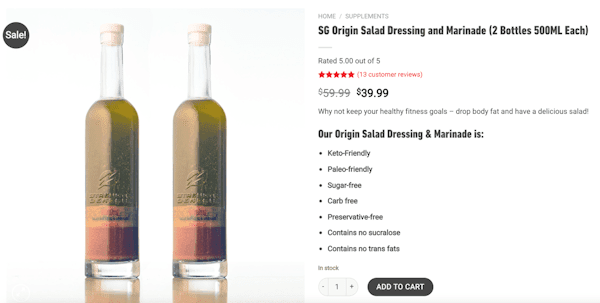 SG Origin Salad Dressing and Marinade (2 Bottles 500ML Each)
Why not keep your healthy fitness goals – drop body fat and have a delicious salad!
Our Origin Salad Dressing & Marinade is:

Keto-Friendly
Paleo-friendly
Sugar-free
Carb free
Preservative-free
Contains no sucralose
Contains no trans fats
Was: $59.99
Now: $39.99 (2-pack)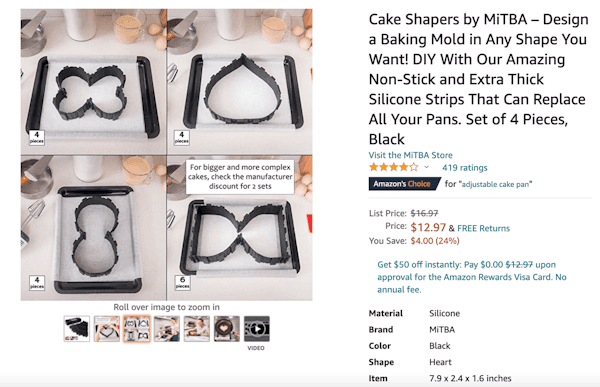 Cake Shapers by MiTBA – Design a Baking Mold in Any Shape You Want! DIY With Our Amazing Non-Stick and Extra Thick Silicone Strips That Can Replace All Your Pans. Set of 4 Pieces, Black
GET FULL CONTROL WHEN YOU BAKE! → Our cake shapers are flexible 7.4 inch long silicone strips that once connected together create a baking mold in any shape you want! Put on a baking sheet or in baking pans! They are easy to connect and operate, leak free, and non-stick. A sensational concept that will fit all of your baking needs!
UNLEASH YOUR CREATIVITY! → Wake up the artist inside you and start baking in any shape you can imagine! Bring yourself into baking and give your cake a design as unique as you are! What do you feel like baking for your child's birthday or for your guests? A heart? A butterfly? A cloud? A letter? A number? With this magic bakeware you can do anything!
A PRODUCT YOU CAN TRUST → Our cake shapers are made of food-grade silicone strips and they have heat resistance for up to 480°F in the oven. We also created them with 150% extra thickness, to make sure that they will be sturdy, durable and 100% leak proof! These tools are very easy to clean and dishwasher safe, so no more scraping pans for you!
Was: $16.97
Now: $12.97
George Foreman 15-Serving Indoor/Outdoor Electric Grill, Silver
The George Foreman Indoor Outdoor Electric Grill is perfect for entertaining.
15+ Servings – It's tailgate time! The 240 square inches of circular grilling surface lets you make over 15 servings for large groups of people.
George Tough Nonstick Coating – There's a lot to love about this nonstick coating. It's durable, easy to clean, and removes the need for butter and oil.
Indoor/Outdoor Removable Stand – Don't let the weather keep you from the glory of grilling. The easy-to-remove stand takes you from patio to countertop in no time.
Apartment-Approved – Your landlord will love this grill just as much as you do. The fully electric system gives you high-quality grilling with no charcoal, no propane, and no flare-ups.
Was: $99.99
Now: $62.67
We will keep you posted on all the best deals – in under a minute!
We use affiliate links. If you buy something through this link we may get a small share of the sale.
We are releasing an all-new deal site that scourers the country for the best prices and dropping deals every minute!
Saving you money on the hottest products by the Minute!