Benefits of Wool Dryer Balls
Good for your wallet and the planet!
Reduce Dry Time = Save Utilities:
We have many choices when it came to dryer balls, most dryer balls will reduce dry time and reduce static cling by 35-60-percent (depending on the size, material and number of balls used).
Reducing dry time and getting completely dry clothes is convenient for busy people, reduces utilities, saves money and it's eco friendly (good for the planet). Dryer balls work by helping to fluff clothes keeping laundry from clumping. 
All great reasons to use dryer balls!
Pur Soft New Zealand Wool Dryer Balls $4.99!
Retail Price: $34.99
Sale: $4.99!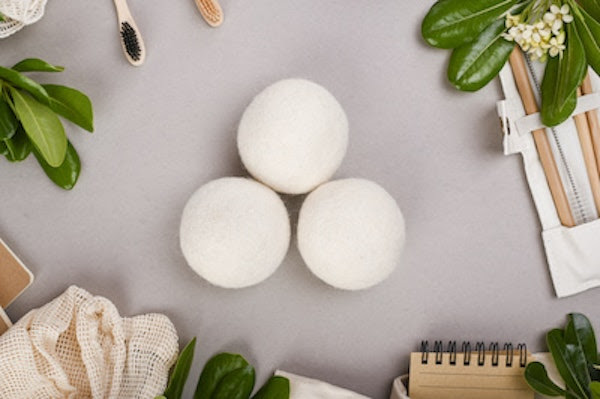 Newer-looking clothes longer?
However, for your load of laundry we wanted to go one step further….during the dry cycle friction occurs between garments and the with dryer balls.
The more friction the wet clothes have with the warm air, the quicker garments show signs of wear (thinning of material or pilling) and more likely for static cling.
The Pur Soft Dryer Ball is softer, which creates less friction, allowing for less wear and tear on your garments, which extends the garment life and look and feel of your clothes.
Lowers utility cost – significantly less drying clothes time
Softens clothes – without the need for dryer sheet and fabric softeners
Extends life of clothes
Hypoallergenic
Safe for people with wool sensitivities
Will not shed
Last for 100s to 1,000 loads
Environmentally friendly and natural
Plus, you can add drops off essential oil to them to help add your preferred essential oils scents to you clothes!
Pur Soft New Zealand Wool Dryer Balls $4.99!
Retail Price: $34.99
Sale: $4.99!

We will keep you posted on all the best deals – in under a minute!
We use affiliate links. If you buy something through this link we may get a small share of the sale.
We are releasing an all-new deal site that scourers the country for the best prices and dropping deals every minute!
Saving you money on the hottest products by the Minute!