National Hammock Day 2021 Deals
July 22 celebrates National Hammock Day! Hammocks come in all shapes and sizes and makes sleeping or resting comfortable by being suspended between two points of a sling made of fabric.
Advertised length of 115″ x 35″; your hammock will soon reach its full length through natural stretching from initial use.
Weight capacity of 450 lbs. there is room for you and your favorite relaxation partner!
This hammock includes hardwood spreaders and extra cushioning.
Was: $69.99
Now: Only $19.99!
Save 71%!
Portable Camping Hammock with Stand
With a hammock, a hammock stand, and a handbag included, for garden and outdoor
Portable hammock, compact, lightweight, and portable for easy carrying and storage
Could bear up to 200Kg weight to the maximum
List Price: $134.38
Now: Only $83.99!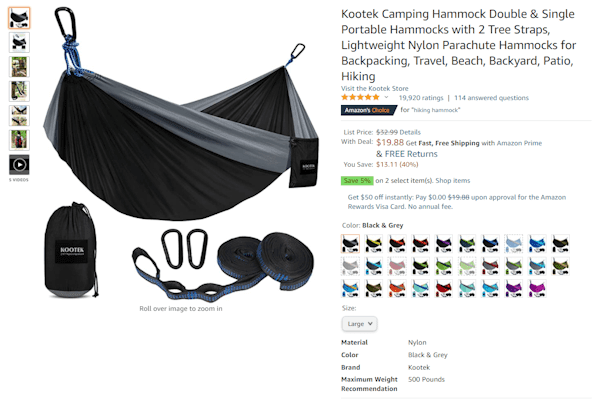 Camping Hammock with Two Tree Straps
Enjoy the Swing: Lie down and rest with your friends, kids, or lovers, relax in complete comfort under the sway. There are multiple colors available in the Kootek hammock. Large size (118"L X 78"W) fit for 2 persons, holding up to 500lb (226. 80kg).
Super Lightweight: Can be folded into the small attached sack, portable to carry, and fits into a backpack. It is a great replacement for a tent, sleeping pad, ground mat, swing, cradle, etc.
Adjustable Tree-friendly Straps: Each strap is 10 feet long with 18+1 loops, easily locking the carabineers to any loops which adjust a perfect height and comfort level. No need to tie any knots and not damaging the trees.
Durable & Comfortable: Made of 210T parachute fabric material, has excellent anti fraying, anti-tearing, dirty resistance. Easy to be cleaned and dry quickly after being wet.
Great Gift: Various of color to select, ideal gift for friends, kids, lovers, father, mother, traveler, beach visitors, tent campers who loves traveling camping, backpacking hiking for a relax. Or hanging the hammock and relaxing on it on the patio.
List Price: $32.99
With Deal: Only $19.88!
Save 40%!
Hammock with Cotton Quilt and Pillow
Rust-resistant and high strength steel hammock stand can adjust its height by the chain
Quickly and affordably refresh your space to suit your personal leisure style, they help create lasting impressions that bring out joy and personality
Camping hammock comes with 2 metal hanging chains and 2 metal O-rings making it easy to set up as soon as it arrives
Bed size is 78 in. L x 55 in. W
With 12 ft. portable steel stand and spreader bar, quilted fabric bed
Was: $166.41
Now: Only $143.11!
Save 14%!
We will keep you posted on all the best deals – in under a minute!
We use affiliate links. If you buy something through this link we may get a small share of the sale.
We are releasing an all-new deal site that scourers the country for the best prices and dropping deals every minute!