Going for the Gold: Top Deals
Australia Macadamia Nut Oil Cold Pressed Liquid Gold
Many times healthier than olive oil in Omega Fats
Repairs cellular damage from poor diet, smoking, pollutants
Very high heat stable – 515 degrees Fahrenheit, chef's choice for cooking (high smoke point)
Tastes like butter
Perfect for eggs, meat, veggies
Was: $29.99
Now: Only $24.99 for one bottle!
Save $5.00!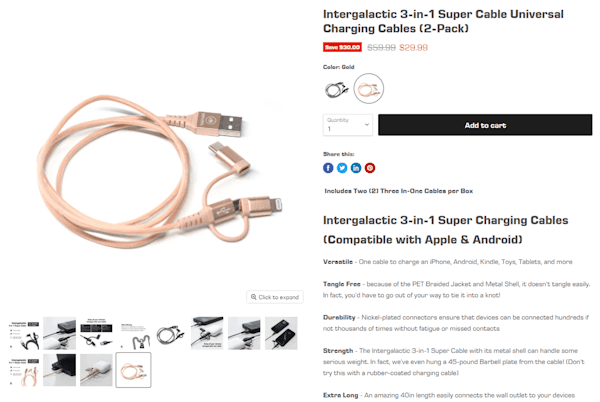 Intergalactic 3-in-1 Super Cable (Two Pack)
Versatile – One cable to charge an iPhone, Android, Kindle, Toys, Tablets, and more
Tangle Free – because of the PET Braided Jacket and Metal Shell, it doesn't tangle easily. In fact, you'd have to go out of your way to tie it into a knot!
Durability – Nickel-plated connectors ensure that devices can be connected hundreds if not thousands of times without fatigue or missed contacts
Strength – The Intergalactic 3-in-1 Super Cable with its metal shell can handle some serious weight. In fact, we've even hung a 45-pound Barbell plate from the cable! (Don't try this with a rubber-coated charging cable)
Extra Long – An amazing 40in length easily connects the wall outlet to your devices
Was: $59.99
Now: Only $9.99 for two cords!
Save $50.00!
Beats by Dr. Dre – Solo³ Wireless On-Ear Headphones – Rose Gold
Connect via Class 1 Bluetooth® with your device for wireless listening
The award-winning sound and design you've come to love from Beats
Up to 40 hours of battery life for multiday use
With Fast Fuel, 5 minutes of charging gives you 3 hours of playback when battery is low
Was: $199.99
Now: $169.99
Pur-Hydro Clean Toothbrush (Gold Standard of Sonic Brushes)
Smart technology indicating when to change tooth areas and prevent pressing too hard
Long-lasting – 6 MONTHS of use on a single charge! Can last up to 12 months depending on use.
Fully waterproof – Can keep underwater FOREVER!
Multiple Modes of Cleaning – Sensitive, Massage to suit different conditions of teeth and gums;
Oral Health – Keep your teeth healthy and strong for a lifetime. 2 minutes smart timer with interval pause reminding each 30 seconds to encourage dentist-recommended brushing habit.
Was: $179.99
Now: $66.99 with listing coupon!
Deals of the Day are subject to sell-outs
Deals of the Day have a limited time
We will keep you posted on all the best deals – in under a minute!
We use affiliate links. If you buy something through this link we may get a small share of the sale.
We are releasing an all-new deal site that scourers the country for the best prices and dropping deals every minute!