Fitness Friday: Five Great Deals
Body fat analyzer accurately tracks your weight from head to toe
Free tracking graph and weight loss app allows you to set specific goals
Measure your body fat, BMI, muscle, water, protein, and visceral fat in seconds!
Tracks different users
Free app for Apple or Android devices tracks your progress
Was: $69.99
Now $29.99!
MCT: MCT oil stands for Medium Chain Triglycerides and is extremely popular within the Keto community as a tool to increase ketosis in an effort to lose fat, drop inches and reduce brain fog.
100% PURE: Derived from Non-GMO Coconuts with No Palm Oil, No Additives or chemicals! This MCT oil with c8 and c10 contains pure high octane MCT oil.
CRAVE LESS FOOD: Containing 60% C8 MCT oil (which comes from the best part of the coconut) this pure MCT oil will have you craving less food, you will be be more satisfied and have more energy!
UNFLAVORED & SATISFYING: High Octane C8 C10 MCT Oil is odorless, tasteless and can be used as a substitute for traditional oils and creams. Add coconut mct oil to coffee, protein shakes, smoothies, guacamole, on salads and many other types of beverages such as tea, pre workout, juice, etc.
KETO MCT OIL: Our premium mct oil is commonly used by those on keto, paleo, vegan, low-carb, and mediterranean diets. Mct oil c8 & c10 metabolizes more efficiently into ketone energy making our mct oil leto and paleo friendly
Was: $34.99
Now: Only $24.99!
Save $10.00!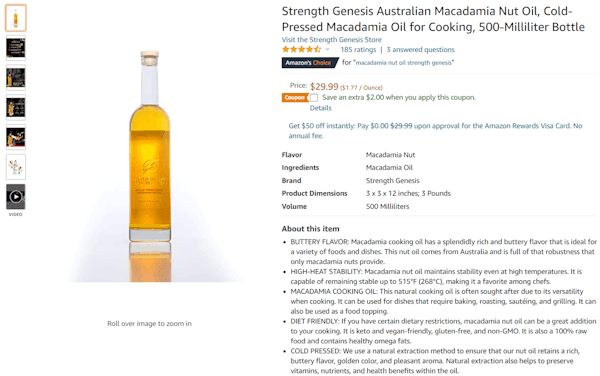 Amazon's Choice: Australian Macadamia Nut Oil
BUTTERY FLAVOR: Macadamia cooking oil has a splendidly rich and buttery flavor that is ideal for a variety of foods and dishes. This nut oil comes from Australia and is full of that robustness that only macadamia nuts provide.
HIGH-HEAT STABILITY: Macadamia nut oil maintains stability even at high temperatures. It is capable of remaining stable up to 515°F (268°C), making it a favorite among chefs.
MACADAMIA COOKING OIL: This natural cooking oil is often sought after due to its versatility when cooking. It can be used for dishes that require baking, roasting, sautéing, and grilling. It can also be used as a food topping.
DIET FRIENDLY: If you have certain dietary restrictions, macadamia nut oil can be a great addition to your cooking. It is keto and vegan-friendly, gluten-free, and non-GMO. It is also a 100% raw food and contains healthy omega fats.
COLD PRESSED: We use a natural extraction method to ensure that our nut oil retains a rich, buttery flavor, golden color, and pleasant aroma. Natural extraction also helps to preserve vitamins, nutrients, and health benefits within the oil.
Was: $34.99!
Now: $27.99 with Amazon listing coupon
(Workout out with your music in HD Bluetooth Sound)
TWS – Total Wireless Function
Bluetooth Play V5.0
Hands-Free Calls
Earbud battery: 40mAh
Charging cradle: 650mAh
Battery life of charging cradle: 36 hours
IPX5 Waterproof
4 hours playback per single charge
Standby time 200hrs
Amazing sound quality
Was: $129.99
Now: Only $59.99!
Save $70.00!
Start dynamic, personalized workouts on your wrist with step by step coaching. Synchronizing range: up to 30 feet. Certain features like smartphone notifications may require android 5.0 plus. Syncs with Mac OS x 10.6 and up, iPhone 4s and later, iPad 3 Jan. And later, android 4.4 and later and windows 10 devices
Store and play 300 plus songs, and download playlists from Pandora. If the band sizes are small, it fits a wrist of circumference 5.5 6.5 inches and if the band size is large, it fits a wrist in circumference of 6.7 8.1 inches
Use built in GPs to track pace, distance & routes and get pure, pulse continuous heart rate tracking & real time zones
The package includes both large and small size bands for the perfect, comfortable fit for all day & all night wear
Access your favorite apps for sports, weather & more and make payments on the go with a built in NFC chip. Durable screen corning gorilla glass 3 is tough and damage resistant
Track runs, swims, rides, workouts, all day activity and sleep with 4 plus day battery life (varies with use & other factors). It's like having a personal trainer on your wrist.
Was: $249.95
Now: Only $199.99!
Save $49.96!
Deals of the Day are subject to sell-outs
Deals of the Day have a limited time
We will keep you posted on all the best deals – in under a minute!
We use affiliate links. If you buy something through this link we may get a small share of the sale.
We are releasing an all-new deal site that scourers the country for the best prices and dropping deals every minute!