… Like having a massage therapist available 24/7!
---
Great for anyone who has tired aching muscles!

Cyber Sale:

Price: $129.99

Most units are $129.99, $169.99, $249.99 and more.

Pur Pulse – Deep Tissue Massage Gun

This at-home percussion massage gun is designed to break up stress knots and soothe aching muscles!

As many people know having muscle knots is no fun.

They can kink a sore neck, hurt cranky shoulders and tighten a sore back.

However, many people just suffer through it, hoping that it goes away.

Sometimes it does, but it can take days or weeks of discomfort.

Sadly, sometimes it doesn't go away on its own, and individuals can be left to other forms of treatment:
Physicians
Chiropractors
Physical therapy
Medications
Deep tissue massage
Injections
Retail Price: $129.99
Sale Price $69.99
Buy Now: Pur Pulse (Deep Tissue Gun Massager) $65 OFF!
️
️
️
️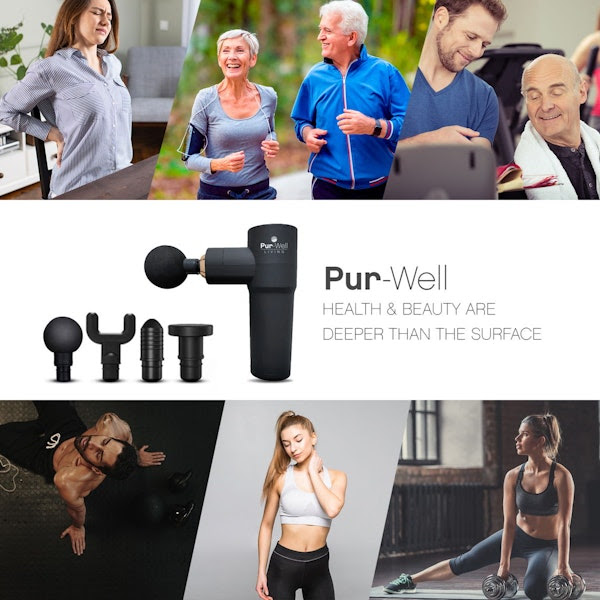 A good whole body deep tissue massage can be between $60 to $100.
Other forms of therapy can cost in the thousands!
Using modern (percussion) technology and muscle impact therapy in an easy-to-use at-home device.
Pur Pulse – Deep Tissue Massage Gun:
Four (4) modes of percussion intensity
Two hours of therapy delivery battery life
Four interchangeable massage head attachments to treat different muscles
Rechargeable with Quick Charge
Auto-shutoff, with the overheat protection for added safety
Ergonomic design️
Retail Price: $129.99
Sale Price $64.99