GIFT READY!
Wireless Compressor Pump & Emergency Tool
Price: $99.99
Because you never know when you'll need air and it oftentimes isn't convenient!
A cordless air compressor, tire gauge, and emergency flashlight!
Sometimes it's not safe or convenient to change a leaking tire – it's best to add air and get the vehicle back to your home or a mechanics garage.
Plugging a compressor into a cigarette adapter – and running a wire is cumbersome, time-consuming and also dangerous.
It can often happen at night when it's dark – and difficult for other drivers to easily see you if you're on the side of the road.
Handsome Wireless Air Compressor Pump & Emergency Tool
Retail Price: $99.99
Sale Price: $39.99!
(Perfect for cars, bikes balls, floats)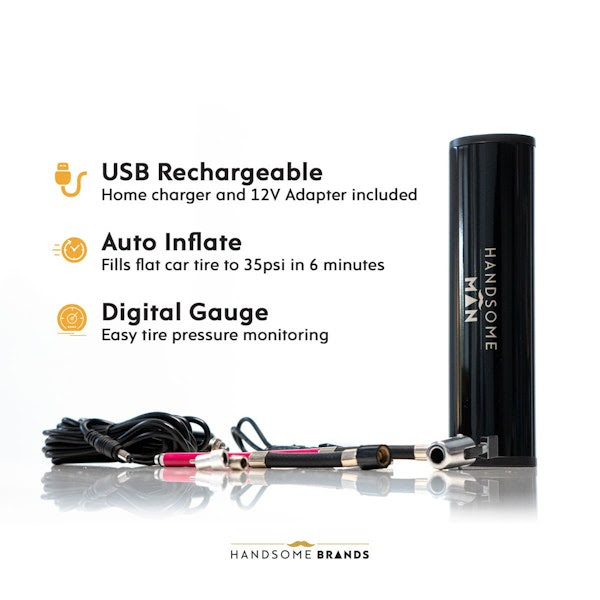 Handsome Brands Emergency Air Pump Benefits:
Quick and Easy Tire filling – fills in 5-6 minutes from 0-35 PSI.
Safer than Changing Tire – less time spent exposed on the roadside where distracted driver accidents pose huge threats.
Don't have to pay expensive tow truck fees – tow trucks can be expensive and take some time getting to you.
Allows you to get to a safe place – lets you get to a safe place to change tire or to get the vehicle to the nearest mechanic shop.
Doubles as Flashlight – can be used as an emergency flashlight for flagging down help, assessing the issue, and assisting you in fixing your tire.
Handsome Wireless Air Compressor Pump & Emergency Tool
Retail Price: $99.99
Sale Price: $39.99
(Perfect for bicycles, cars, balls, floats)
Handsome Wireless Air Compressor Pump & Emergency Tool Product Specifications:
Wireless air pump – rechargeable battery and cordless tire inflator allows for modern and convenient inflation.
Portable design – easy to carry and small enough to put in your pocket, backpack, or glove compartment.
Digital LCD tire gauge – LCD display makes reading present tire pressure easy and convenient to check.
Auto inflate – The tire preset allows you to inflate to your desired pressure and will automatically shuts off when the proper tire pressure is reached.
LED lighting – designed with bright and long-lasting LED lights, make it simple for you to inflate and repair at night.
USB rechargeable -Two power supply – specialized home charger and 12V DC cigar lighter power cord are included
Wide usage – the Handsome Wireless Air Compressor Pump & Emergency Tool is suitable for cars, motorcycles, bicycles, balls, and other inflatables.
Strong power – Max Inflatable Pressure 150PSIOur
Reg. Price: $99.99
Handsome Wireless Air Compressor Pump & Emergency Tool
Retail Price: $99.99
Sale Price: $39.99