Studies have found many different types of bacteria and viruses on phones.
It's common to find bacteria that live on the skin and in the respiratory tract – as well as bacteria that lives in fecal matter.
And while most of those bacteria won't make you sick – they're not all completely harmless.
Various studies have found:
E. coli
MRSA
Streptococcus
Influenza
and many other species living on mobile phones
It's fair to say if you think it's important to clean a toilet seat:
it's even more important to clean your phone!
But how?
You really can't get your phone wet or spray liquids (even screen sanitizers) on your device – without the risk of clouding the screen or ruining the device.
Good news
No liquid required!
With the advancement of small Ultra Violet lamps from the medical community – comes the safe way to clean and protect our devices.
Order: Pur Phoneitizer at sale price:
Retail: $99.99
Sale:   $19.99
*This is below cost and a limited-time promotion.  No Rain-checks.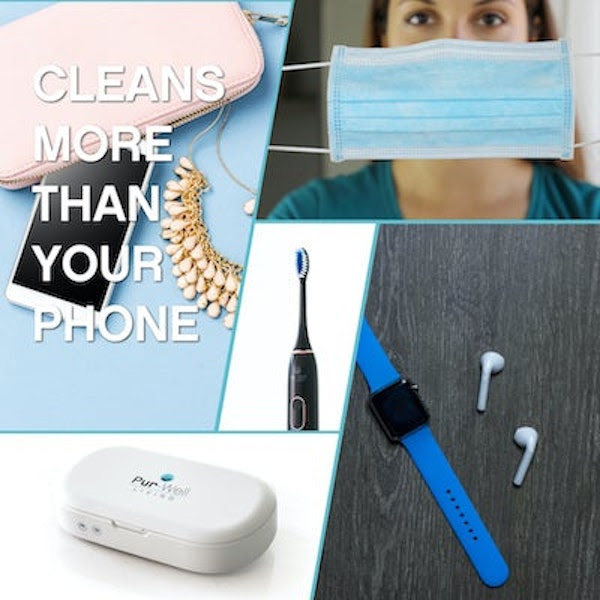 And there's more: 
Not only can the  Pur Phon-itizer sanitize, disinfect and charge your phone, it can also be used with other often used but seldom sanitized items, including:
Powerbanks
Jewelry
Eye-glasses
Pens
Baby toys
And more!
Other similar models sell for $100 or more.
BUY IT NOW: Pur Phone Sanitizer
Retail: $99.99 
Sale Price: $19.99!
Pur Phon-itizer is Aromatherapy Compatible
*This is below cost and a limited-time promotion.  No Rain-checks.