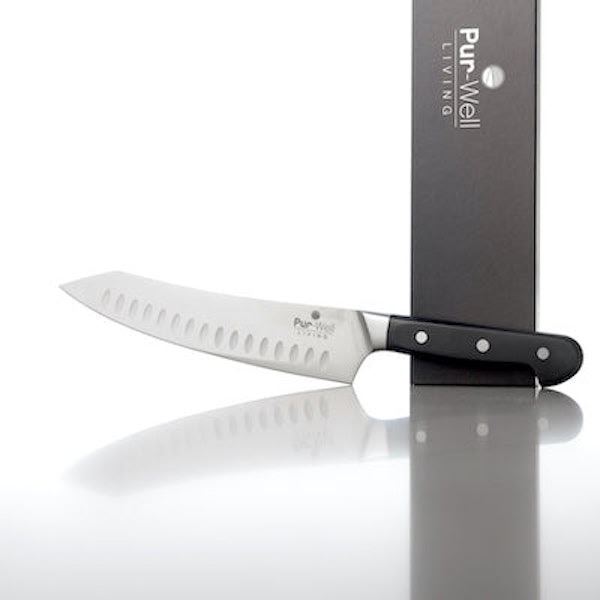 You will not find a better classic chef's knife at a better price
Now you can have an Ultra-premium classic chef's knife without paying a fortune!
The versatile Five Star Anniversary Chef's Knife is a sturdy, heavy knife – featuring a broad, strong blade and fine cutting edge.
Also, makes a great gift for any 'foodie' in your life!
The Perfect Classic Chef's Knife Detailed
This all-rounder knife is made for professionals and hobby chefs, alike.
Designed to be used in a circular, rocking, and chopping motion – the knife is suitable for chopping herbs, cutting vegetables, slicing, and dicing fish and meat.
This design is one of the world's most popular knife lines.
This knife features a precision-forged blade – made from a single piece of exclusive high carbon stainless steel.
The knives have improved quality consistency, lasting sharpness, and perfect geometry.
The steel blade goes through a special ice-hardening process called Friodur:
This process changes the molecular structure of the steel improving the cutting properties – providing a remarkably sharp blade and ensuring a long-lasting cutting edge.
PWL Classic 8in Chef Knife (Made with German Stainless Steel)
Was: $169.99
Sale Price: $29.99!

Perks Of Pur-Well's Classic Chef's Knife
Each knife is hand sharpened, polished, and laser controlled – to ensure the cutting edge is accurate along the full length of the blade.
The Five Star series features high-impact polypropylene handles that are permanently bonded to the knife blades without any gaps.
These comfortable, molded handles are:
Break-proof
Sanitary
Colorfast
The super bolster and full tang provide weight, ensure safety, and add balance.
PWL Classic 8in Chef Knife (Made with German Stainless Steel)
Was: $169.99
Sale Price: $29.99
This will sell-out check immediately and often
Features and benefits include:
Sigmaforge knife is precision-forged from a single piece of exclusive high carbon stainless steel
Full tang with bolster provides solid grip and balance; polypropylene molded handle provides a comfortable grip
57 Rockwell Hardness; 15° blade angle delivers an outstanding cutting performance
Friodur ice-hardened blades are remarkably sharp, stay sharper longer and highly corrosion resistant
Buy: PWL Classic 8in Chef Knife (Made with German Stainless Steel)