Amazon deal of the day for this week and counting! With a wide-ranging assortment from footwear to supplements, we've got you covered for any deals throughout Amazon.
Men's/Women's Crocs
Crocs Men's and Women's Classic Tie Dye Clog
Amazon's deal of the day
100% Synthetic
Imported
Ethylene Vinyl Acetate sole
Heel measures approximately 0.77″
These Crocs for women and men are incredibly lightweight and fun to wear.
Price: $54.99 
Sale: $39.99
Amazon Deal of the day – Smart Flosser
Deep Cleans – even the most stubborn plaque between teeth
Thirty (30) uses on a single charge!
Fully Waterproof IPX7– Can keep it underwater FOREVER!
4-modes – light, medium, strong, pulsating
Two (2) minute auto timer
Reduces inflammation – Unlike string floss where string abrasion can damage and irritate gums, water power flossers easily move around the gaps of teeth, eliminating friction. This leads to a more pleasurable flossing experience.
A safer method for braces, dentures, and implants – Flossing with braces or dentures can often lead to string getting caught and stuck. Flossing with Pur Clean Smart Water Flosser removes this risk and allows the user to safely maneuver the device around the mouth without fear of getting anything caught
Price: $99.99
Sale: $49.99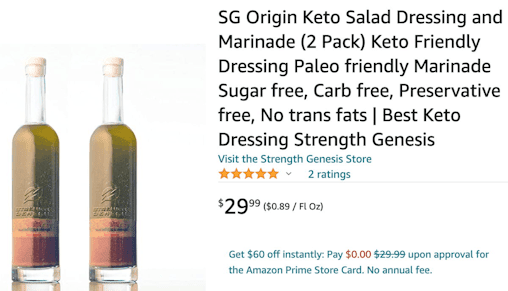 Salad Dressing – Deal of the Day
SG Origin Keto Salad Dressing (2 Pack)
100% Extra Virgin Olive Oil, Red Wine Vinegar, Salt, Pepper, Oregano, Dry Mustard, Garlic Powder
Keto-Friendly
Paleo Friendly
Sugar-Free
Carb Free
Preservative Free

IMPRESS YOUR FRIENDS & FAMILY: You can use Strength Genesis Origin Salad Dressing and Marinade in TONS of ways! Use it as a quick-and-easy salad dressing, a marinade to bring out the flavors of any meat, or just a quick drizzle over your favorite tacos. You can also improve things like coleslaw, tuna salad, pasta salad, eggs, dips, and more!
Was: $59.99
Price: $29.99 (2-pack)