The Pur Well thermometer causes us to ask ourselves, with the precautions we take with the risk of germs surrounding us, now is the time to think of a safer way to take our temperature.
What Are The Features Of Pur Well's Thermometer?
This thermometer is guaranteed to impress!
Colors: Blue – Light Blue
Material: ABS.
Size: 6*3.3*1.7 inches
Ambient temperature:
10-40ºC Range of measurement / Body mode: 32-42ºC (89.6-108ºF) / Surface mode: 0-10ºC (32-21ºF)
Safely and conveniently measure your temperature with the press of a button.Pur Well Living Non-contact forehead thermometer – a convenient tool you'll need to quickly and reliably measure body temperatures or object temperatures.
Check for a fever – without disturbing individuals or risking cross-contamination.
Advanced infrared temperature-sensing technology is harmless and safe.
WINTER Sell-Off! CVS & Walgreen are $60 More for the same!
Digital Thermometer Instructions for Use
Simply press the trigger and read the temperature on the large backlit LCD display.
Non-touch use also greatly reduces the risk of spreading germs and illnesses.
Ideal for quickly detecting elevated body temperature.
Perfect for measuring the temperature of babies, children, adults, milk, bathwater, wine, food storage temperature, etc.
This thermometer allows multiple individuals to quickly and accurately be measured an unlimited number of times per hour/day.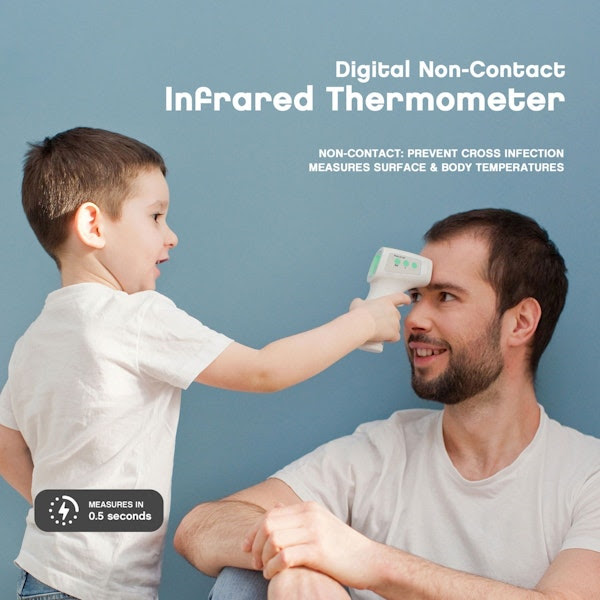 Benefits Of A No-Contact Thermometer
Convenient
Instant
Automatic
Quiet operation
Reliable
Easy to read
No recurring costs
Was: $79.99
Today: $9.97>>
Last Chance