Pur-Well Living Body Fat Scale
Lose fat pounds and track for long-term success!
Last updated on September 30, 2021 11:15 am

Pur-Well Living Body Fat Scale
Lose fat pounds and track your weight for long-term success!
Most successful fitness experts & individuals track fat-pounds – not total weight.
Think about it – most of us base our eating and workout decisions on some arbitrary number on a scale.
Have you ever seen that number waiver when you step on the scale?
It's because water weight fluctuates – fat does not.
Most low-budget body fat scales have only a few sensors that are not always accurate.
The Pur-Well Living Body Fat Scale has four sensors – and gives you an overview of body fat, body mass index (BMI) and many other factors every time you use it!
Body Fat Scale Product Features:
Body fat analyzer accurately tracks your weight from head to toe
Free tracking graph and weight loss app allows you to set specific goals
Measure your body fat, BMI, muscle, water, protein and visceral fat in seconds!
Tracks up to 8 different users
Free app for Apple or Android devices monitor and review your progress
So Much More Than Just a Body Fat Scale 
When weighing ourselves on the scale, we only pay attention to what the number says. If we lose weight, we are healthier, and if we gain weight we are unhealthier. Black and white, no ifs, ands, or buts.
But in fact that is a common misconception. Healthy changes like exercising can cause the number on the scale to go up. Muscle weighs more than fat after all, and when we build muscle we actually increase our weight. So how then can we accurately measure how healthy we are?
Body fat percentage is the number we should be looking at. This number helps show the amount of fat we are storing in our bodies. The lower the percentage, the better we are doing.
Most scales ignore this number, or simply cannot calculate it. The Pur Well scale is not like most scales. With four sensors measuring your body at once, this scale calculates body fat composition quick and accurately.
But this digital scale calculates more than just fat percentage. It calculates other important information like water mass, muscle mass, and bone mass. Other essential numbers you should know to giving you the full scope of your body mass index. Never before has a scale done so much for you and your fitness goals!
Mobile Health App
Best of all, this incredibly versatile body fat scale allows you to track and store all of your numbers on your phone in real time. Simply download the free app onto your Apple or Android phone or tablet. And in minutes you can see all of your numbers and begin setting your goals.
Check fat and muscle mass over the last few weeks to see if all that hard work in the gym paid off. Did you reach your goal for the month? Set another one, anywhere you are!
Get the whole family involved, too. This body fat scale app stores up to 8 users, allowing the whole family to take control and improve their overall health.
We all have mobile apps. Why not get one to help you stay healthy?
Retail Price: $79.99
*Pricing is subject to change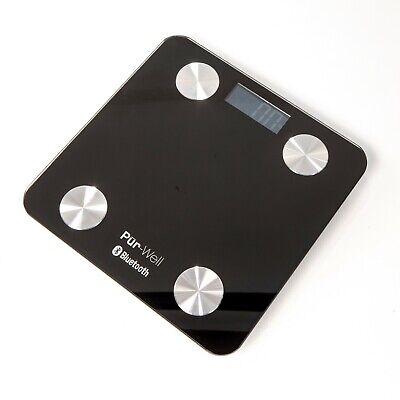 Pur-Well Living Body Fat Bluetooth Bathroom Scale Weight Loss Digital Scale
Item condition: New
Ended: Oct 27, 06:59 PST
as of December 6, 2023 11:03 pm
Specification:
Pur-Well Living Body Fat Scale
| | |
| --- | --- |
| Weight | 68 oz |
| Dimensions | 13 × 13 × 5 in |
User Reviews
Only logged in customers who have purchased this product may leave a review.
Pur-Well Living Body Fat Scale